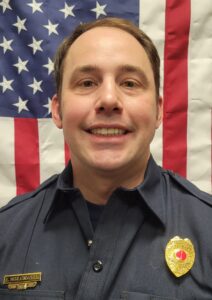 Lt. Erik Schleinkofer has been in fire/EMS for ten years, in which most of his time in the industry has been spent on an ambulance.  Prior to working for Travis County ESD #10 (TCESD #10), he was the lead paramedic instructor for Travis County ESD #2's (TCESD #2) paramedic program. He taught two paramedic courses and two Emergency Medical Technician (EMT) courses. He is a nationally registered paramedic, critical care paramedic, Emergency Medical Services (EMS) instructor and an advanced coordinator for EMS education programs.
Erik began his career at Killeen Fire Department as a firefighter/EMT. After a few months of employment, they put him through a paramedic school. After gaining some experience there, he moved on to Austin-Travis County EMS (ATCEMS) because he wanted to excel in the EMS portion of the job. He then moved on to TCESD #2 as one of the first paramedics they hired in preparation for their ambulance transport service. After a few years there he was interviewed and selected for lead EMS instructor. He trained three of TCESD #10 current employees during his time at TCESD #2.
Prior to being in the fire/EMS field, he taught in high school and was in the U.S. Navy. He is still a Navy Reservist to this day.