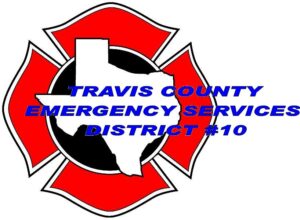 CE-Bar Volunteer Fire Department, Inc. has provided emergency response to our neighborhood and surrounding Travis County since 1968. From its humble beginnings as an all-volunteer department, we have grown into a full-career department, employing 14 full-time state certified firefighters, many of whom are also Paramedics. We are staffed 24/7/365 with a minimum of four personnel and operated under automatic aid and mutual aid agreements with all fire departments in Travis County, including the Austin Fire Department (AFD). We have a Personal Protection Rating of 2 (1 best-10 worst) through the Insurance Services Organization (ISO).
In the event of a structure fire in our district, centralized AFD fire dispatch will send 4 Engines (usually two from Westlake, one from Lake Travis Fire Rescue and one from CE-Bar), two Aerials (usually from Oak Hill and AFD) and two Command Units. These apparatuses come with approximately 26 certified firefighters. Responding to approximately 600 calls per year, including our out-of-district automatic/mutual aid responses, we have an average in-district response time of 4.5 minutes. We operate under the Austin Fire Department A101 Standard for Structural Firefighting, and we routinely train with our automatic aid partners, striving for seamless operational efficiency.
On January 1, 2014, the day-to-day operations of the fire department were assumed by our neighbors serving as Commissioners on the Board of Travis County Emergency Services District #10. The Emergency Services District, our district's taxing authority, has existed in support of the fire department almost since its inception, having converted from Travis County Rural Fire Protection District #10 in 1996. CE-Bar VFD, Inc. continues to exist as a support organization for the Emergency Services District.
We are proud and honored to serve our friends and neighbors to the best of our ability. Thank you for your continued participation and support.
Chief Buddy Crain