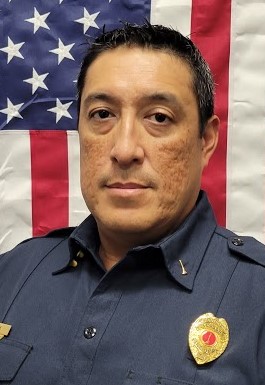 Lt. Richard Vecchione has 18.5 years of fire/EMS experience with Austin Fire Department (AFD). He currently has six years with Travis County ESD #10/Ce-Bar Fire Department and is serving the position of Field Training Officer. He has 16 years of Special Operations experience with AFD, 12 total years as a lead/adjunct instructor with various fire academies teaching Special Operation courses and Austin Water Utility Hazwoper classes. For the past four years, Lt. Vecchione serves as a Hazmat Specialist for Texas A & M Texas Task Force 1.
Lt. Vecchione currently holds the following certifications: Advanced Structure Fire Fighter, EMT-B, Instructor 1&2, Advanced Fire Investigator, Advanced Fire Inspector, Fire Officer 2, Hazmat Technician, Structure Collapse Technician, Swiftwater Technician, Rescue Swimmer, Rope Rescue Technician, Rescue Boat Operator, Wilderness Rescue Technician, Wide Area Search Technician and Driver Operator for Pumper/Aerial.
Lt. Vecchione was brought up overseas in an Air Force household with a final destination in New Mexico. After going to various schools in Arizona and New Mexico, he spent approximately seven years in the semi-conductor industry at Dell, Advanced Micro Devices, and ACER.
Lt. Vecchione pursued a carrier in the fire department due to the events of 9/11. He felt that he could serve the community in more ways possible than his previous positions in the computer industry.